The importance of disinfection services in the workplace cannot be overstated. In today's world, it is more essential than ever to maintain a safe and healthy environment for both employees and customers alike. Disinfecting cleaning services are a great way to ensure that your facility, office, or fleet of vehicles are free from potential viruses and bacteria that can spread disease. When it comes to hiring a professional disinfection service, it is important to know what to expect from them. This blog post will explain why you should prioritize disinfection services for your workplace and how they can benefit you.
What is a disinfecting service?
Conventional disinfecting services typically involve cloth wiping surfaces to kill germs and viruses. However, Four Seasons professionals use the most advanced technology called Electrostatic Disinfection Fogging for our professional disinfection services. This innovative approach uses a disinfectant solution with positively charged electrodes that are attracted to surfaces and crevices, ensuring the complete coverage of every nook and cranny. A typical room can be completely disinfected in under 5 minutes without the need for wiping.
It maintains the cleanliness of all surfaces
Regular disinfection and virus protection services are a crucial part of keeping the hard surfaces, upholstery, and carpets in your facility clean. At Four Seasons Cleaning, we know that consistent and thorough disinfection cleaning is important to keep your employees healthy and productive.
Besides providing cleanings using the latest electrostatic disinfection fogging technology, we also offer a 90-day virus protection treatment to provide an added layer of defense against the spread of germs and viruses. By utilizing our virus protection services, you can feel confident that your workplace is always clean and healthy for your employees. Here's our 90-day virus protection process:
Surface Cleaning: we use soap or detergent and water to physically remove dirt and impurities from surfaces. This process does not necessarily kill all germs but does lower their numbers and the risk of spreading viruses and other germs.
Electrostatic Disinfection: as previously mentioned, we use an electrostatic misting application system, which completely disinfects all areas and surfaces, killing 99.99% of all germs
SmartShield Anti-microbial: we use our SmartShield Antimicrobial that prevents microbial growth on hard surfaces and fabrics. When applied, SmartShield establishes an invisible nanolayer that mechanically prevents microbial growth for up to 90 days.
It limits the spread of viruses and bacteria
Professional disinfection services are far more effective in eliminating germs than traditional cleaning methods. This is because disinfection services use EPA-approved solutions that eliminate 99.99% of viruses, germs, and bacteria.
Regular disinfection & virus protection maintains the cleanliness of surfaces, making it difficult for germs and viruses to survive on surfaces for an extended period. This greatly reduces the risk of infection spreading, especially in high-traffic workplace areas.
It increases productivity
Studies have shown that workers are more productive in a stress-free, motivating environment. However, this can be hard to achieve if the workspace is not properly cleaned and disinfected. A clean and sanitary environment is not only essential for maintaining good health, but it also has a positive effect on productivity.
Disinfection services, like the ones provided by Four Seasons Cleaning, can reduce the number of employee sick days and improve their focus and peace of mind.
It improves indoor air quality
One of the major benefits of prioritizing disinfection services in the workplace is the improvement of indoor air quality. Poor air quality can cause numerous health problems, especially for individuals with allergies and asthma. Dust, pollen, and other pollutants can accumulate in an unclean commercial space, causing symptoms like coughing, sneezing, and shortness of breath.
Disinfection cleaning works by eliminating viruses, bacteria, and allergens from surfaces and the air. By regularly disinfecting common areas and frequently touched surfaces like counters and shelves, Four Seasons cleaning professionals can help prevent the spread of pollutants. This ensures a healthier and safer environment for your employees and customers.
Professionals have the right equipment for the job
While consumer cleaning products may seem like a convenient and cost-effective option for maintaining workplace cleanliness, they don't always provide the desired outcome. That's where disinfection professionals come in. Our cleaning experts have access to industrial-strength disinfectants and specialized equipment that can effectively eradicate harmful pathogens that consumer products may miss.
By entrusting your workspace disinfection to professionals with the right equipment and expertise, businesses can reap the benefits of disinfection cleaning while freeing up their time and resources to focus on more important business matters instead.
Professionals know how and where to clean and disinfect
Disinfecting a workspace is not an easy feat, especially if you're not familiar with how disinfection cleaning works. However, a professional disinfecting service has a wealth of knowledge about how to sanitize all surfaces effectively, and in record time.
Even if you think you've cleaned and sanitized everything, there are still areas that may have been missed. Professional disinfection service providers have the tools, training, and expertise to disinfect hard-to-reach areas and ensure that every surface is properly cleaned.
High-touch surfaces, such as doorknobs, keyboards, and desks, are some of the most notorious germ-spreading culprits in the workplace. However, other potential disease spreaders, like light switches and copy machines may be overlooked. This is why you need a professional disinfection service, as they will identify and clean every germ-spreading surface.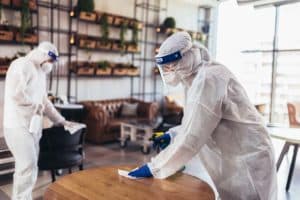 Keep your workspace clean for your employees and customers with Four Seasons Cleaning
At Four Seasons Cleaning, we specialize in providing top-notch disinfection and virus protection services for facilities, offices, and even fleets of vehicles. Plus, our team is experienced, highly trained, and only uses the latest equipment and techniques to ensure that your space is cleaned and disinfected to limit the spread of viruses and bacteria.
Whether you're looking for a one-time disinfection service or recurring disinfection protection services, we can help. Contact us today to learn more about our services and how we can help keep your workspace clean and germ-free for your employees and customers.