A clean workspace has SO MANY benefits to your work environment, and to the person(s) in the environment.
At Four Seasons Cleaning, we take pride in cleaning for you and making your home or work environment a more comfortable, clean and sanitary place to work. We know that a clean environment boosts productivity and creativity!
It turns out that keeping things clean and organized is good for you, and research proves it. Here's what Psychology Today said about working in a clean space, and why it matters.
As Seen on the Psychology Today website: "A study led by associate professor Nicole R. Keith, Ph.D., research scientist and professor at Indiana University, found that people with clean houses are healthier than people with messy houses."
A research study in 2011 at Princeton University found that "clutter can actually make it more difficult to focus on a particular task. Specifically, they found that the visual cortex can be overwhelmed by task-irrelevant objects, making it harder to allocate attention and complete tasks efficiently."
Many studies over the years (including the ones from Psychology Today) show that productivity, mental clarity and mood are impacted by a cluttered workspace.
A cluttered workspace environment contributes to:
Higher Stress Levels

Lower Morale

Less Sleep, More Worry

Less Clarity & Focus

Less Task Completion

Time Wasted Finding Things
So, what can you do to improve your workspace's overall cleanliness or cluttered environment?
The first thing we suggest is to hire a cleaning service to help you tackle the dust, dirt, and trash and help keep up with those tasks weekly. This will prevent it from building up. When a cleaning crew is put on schedule, the office always stays clean and these tasks do not build up.
The second thing we would suggest is to regularly clean shared spaces: The kitchen, break room, bathrooms, entryway, sitting area, and hallways get a lot of traffic. These tend to get the dirtiest, but the cleaning of these gets ignored unless a designated cleaning service manages it.
Even other areas can get filthy if there is not a regular cleaning, areas like the supply closet, the communal pantry, and the cabinets or storage areas. It makes it impossible to find things, and bugs can easily hide there too.
Don't let a cluttered and dirty workspace get in the way of a healthy and productive day. Let us help your office keep those shared spaces clean, dust-free and clutter-free. A clean work environment is a healthier one!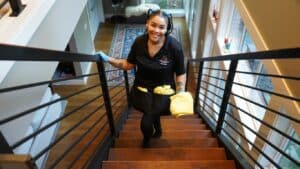 Call Four Seasons Cleaning to schedule your weekly cleaning.
Resources used:
https://www.psychologytoday.com/us/blog/the-truisms-wellness/201607/the-powerful-psychology-behind-cleanliness