Are you looking to learn the best tips for cleaning your glass shower door like a pro? If so, then you've come to the right place! Glass shower door cleaning can be a tricky task, but with the right approach and products, you can make short work of it. In this blog post, we'll provide you with five top tips on how to clean your glass shower door so that it always looks sparkling clean and streak-free!
1) Things you'll need
Tool/Equipment:
Sponge
Squeegee
Microfiber cloth
Toothbrush
Optional: razor blade scraper and paint scraper
Materials:
Distilled white vinegar
Dish detergent
Water
Lemon
Lemon oil
2) Glass door cleaning schedule
For the best results, it's important to develop a regular cleaning schedule for your glass shower door.
Here are a few tips to help keep your door sparkling:
Daily: Squeegee the glass after each shower ensuring that you've removed all the moisture, then air the shower out by leaving the door open.
Weekly: Wipe down your shower every week with a sponge and the homemade mixture described in #4 below.
Monthly: Once a month, your shower can use a deep clean. Thoroughly scrub it, giving special attention to those nooks and crannies. To prevent hard water spots on your glass doors, consider installing a water softener.
3) Clean with lemon
Using a lemon and baking soda is one of the best tips for cleaning glass shower doors.
To start, cut a lemon in half and dip the cut side into some baking soda. Then, rub the baking soda lemon half onto both sides of your glass shower door. The acid in the lemon will react with the baking soda, making a sudsy foam that will help break down any dirt and grime. Once the door is rinsed and dry, take a cloth and rub a little lemon oil on it to repel water and soap scum. This will help keep your glass looking cleaner for longer.
4) Clean with vinegar
Create your homemade shower cleaner.
Fill a spray bottle with 2 parts vinegar and 1 part dish soap and shake it up to mix.
Thoroughly spray your new DIY cleaning solution around your entire shower. Ensure that you cover all cracks or crevices that have a lot of soap scum buildup. Let the solution sit for about 30 minutes or until you see it penetrate the soap scum.
After at least 30 minutes have passed, scrub your glass doors and the rest of your shower with a sponge. Use a microfiber cloth to wipe down and remove any remaining residue.
5) Don't forget to clean the shower tracks
When you're cleaning your shower door, don't forget to give special attention to the edges and tracks.
These areas are often forgotten about when cleaning, but they can easily become a prime target for mold and soap scum if not maintained. Make sure to give these areas a good scrub with a toothbrush or a small handheld brush to get rid of any grime and dirt that may have built up over time.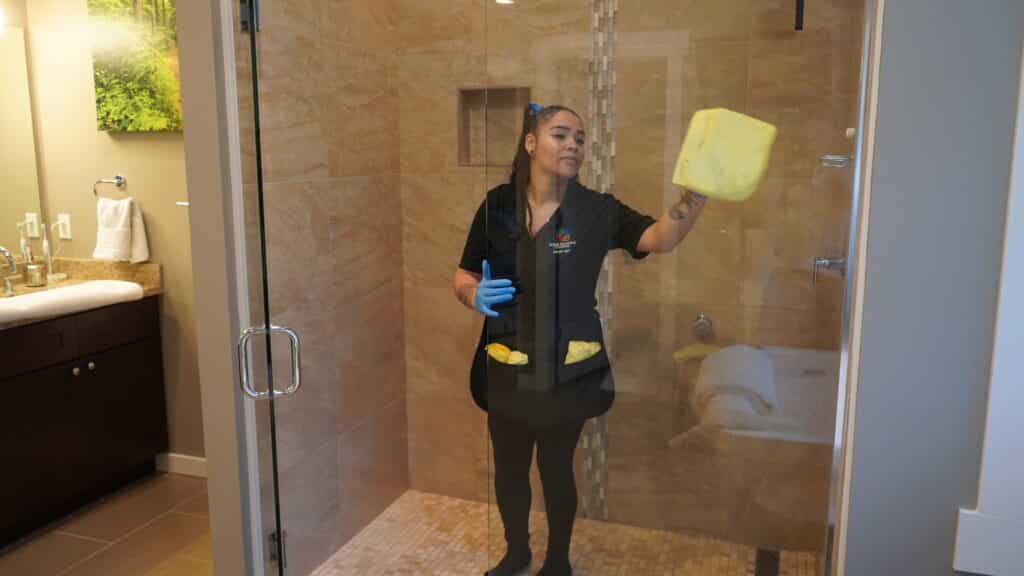 Save yourself time and effort with professional luxury home cleanings!
Cleaning your glass shower door may be a daunting task, especially if you're short on time or don't have the proper cleaning supplies.
However, with professional luxury home cleanings from Four Seasons Cleaning, you don't have to worry about that! Our experienced professionals have the necessary supplies and know-how to get the job done right, so you can rest easy knowing that your entire home, and especially your glass shower doors, will always look their best.
Four Seasons provides daily, weekly, bi-weekly, and monthly luxury home cleaning services in Seattle and surrounding areas including Redmond, WA, Kirkland, WA, Mercer Island, WA, Woodinville, WA, Bellevue, WA, and more! Enjoy the look and feel of a sparklingly clean home without lifting a finger. Call us at (425) 821-4503 today to schedule your first cleaning or book online!