Are you struggling to find the perfect gift for Mom this Mother's Day? If so, you are in the right place! This ultimate mother's day gift guide is here to provide you with creative and thoughtful mother's day gift ideas that don't include flowers. We have scoured the web for the best gifts for mom and compiled them into one easy-to-use mother's day gift guide. With these ideas, you can show your mom just how much you care and make her feel special this Mother's Day.
Quality Time With Family
Instead of buying a gift, consider planning a special activity that you can do together.
There are so many options for quality time activities. You could go for a hike in a local park, play a board game, or simply sit outside and enjoy each other's company. Whatever you choose to do, make sure that everyone is fully present and engaged in the activity.
What better way to show your appreciation for the mom in your life than by giving her the gift of quality time together? So, just keep in mind that your gift doesn't have to be expensive or extravagant, it should just be thoughtful and intentional. So, put down the phone, turn off the TV, and spend some uninterrupted time together as a family. Trust us, it's the ultimate gift.
A Day or Night Away From the Family
It may seem counterintuitive, but what moms really want for Mother's Day is often time away from their families.
As much as moms love their children and partner, it can be exhausting to be constantly on call and never get a moment to themselves.
That's why the most requested Mother's Day gift among mothers of young children is some alone time. This could mean spending an afternoon at home alone while Dad takes the kids to the park or zoo. Or it could be a night alone at a nice hotel where the mom can fully unwind and relax.
During this precious time alone, moms can indulge in activities that they may not get to do otherwise, such as taking a bubble bath, ordering room service, or even just enjoying a night of uninterrupted sleep. It's a time to recharge and refresh so that they can come back to their families feeling renewed and re-energized.
So if you truly want to give the mom in your life the ultimate Mother's Day gift, consider giving her the gift of alone time. It may not seem like the most conventional gift, but trust us – it's what moms really want for Mother's Day.
A Home-Cooked Meal
Another of the most thoughtful things you can do for the mom in your life on Mother's Day is to prepare a special home-cooked meal for her.
Trust us when we say that this is what moms really want for Mother's Day! Sure, you could make a reservation at a fancy restaurant, but there's something about a meal made with love in the comfort of your own home that just warms the heart.
The key here is to put some thought and effort into the meal. Think about what her favorite dishes are and try to incorporate them into the menu. You could even enlist some help from the rest of the family to make it a fun activity.
When the meal is ready, set the table with some nice plates and cutlery, light some candles, and turn on some soothing music. Make the whole experience feel special and elevated. And if you want to go above and beyond, pair this gift with another from this list of ultimate Mother's Day gift ideas.
Getting to Sleep In or Take a Nap
One of the best gifts you can give a mom on Mother's Day is the gift of sleep.
Let her sleep in and take a nap without any interruptions or distractions. Being a mom is a full-time job that requires a lot of energy, and sometimes all a mom really wants is some rest and relaxation.
So, if you're looking for the perfect Mother's Day gift, why not give her the chance to catch up on some much-needed sleep? You can take care of the kids or run errands for the day while she takes a well-deserved nap. Trust us, she'll appreciate it more than any flower bouquet or box of chocolates.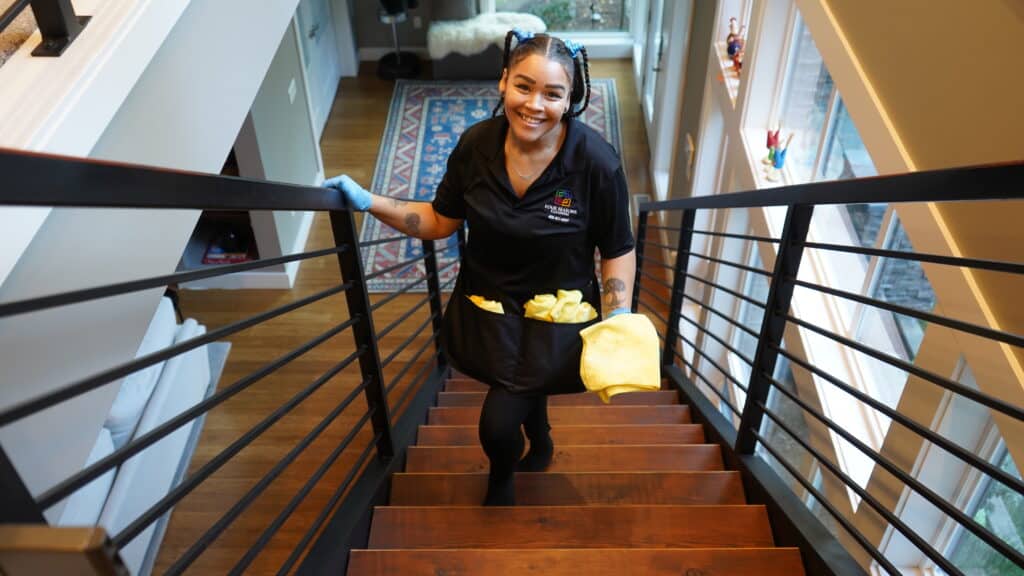 A Clean House
It's no secret that a clean house can be incredibly relaxing and make all the difference in how a person feels.
And for moms, this is especially true. So for Mother's Day, why not take care of the housework so Mom can truly enjoy the day?
Fortunately, cleaning the house doesn't have to be a daunting task. The whole family (except Mom, of course) could join forces to tackle the job. But, if cleaning isn't exactly your forte or you don't have the time, consider enlisting the help of Four Seasons Cleaning.
Whether it's a one-time clean or an ongoing service, our professionals will ensure that the mom in your life really gets what she wants for Mother's Day: a sparkling clean, comfortable home that she didn't have to lift a finger to achieve. Contact us today for a quote!