FOUR SEASONS CLEANING
Tips to Clean Your Windows Like a Pro
Why Clean Your Windows Like a Pro?
Professional window washing should be done at least twice a year, but this is a chore that few people opt for. When it comes to washing the windows in your home, many people choose to use wadded-up paper towels or newspaper, a can of spray cleaner, and a lot of elbow grease instead of the recommended methods.
Cleaning windows like a pro doesn't have to be a hard task. Here you'll find tips to make your cleaning windows day a more effortless experience for you and your family. But first…
What You'll Need
You can find the same high-quality window washing tools that professionals use online, at home centers, and in full-service hardware stores, so shop around when you need to clean your windows. Here are some recommendations on what you'll need to get your windows sparkling clean like an expert: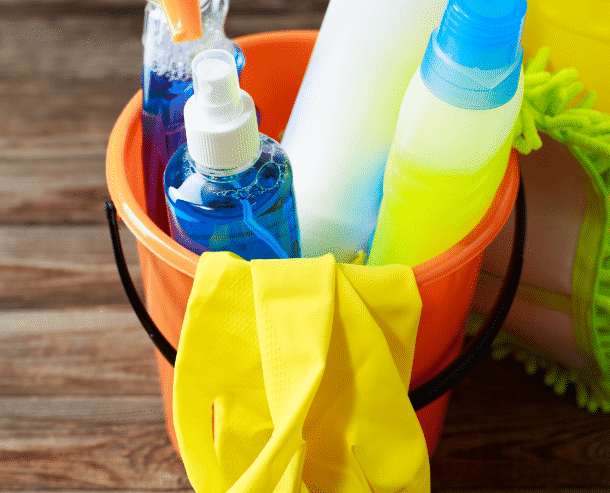 A squeegee with a 10 or 12-inch blade.
A sponge or a scrubber.
A 5-gallon plastic bucket will work.
Soap for the kitchen sink.
Vacuum-packed rags or hand towels without lint.
Stabilizers for use with ladders (if needed).
Note: Keep your squeegee's rubber blade in good shape by replacing it regularly. For emergencies, buy two or three extra rubber blades. In order to show a new edge on blades that haven't been nicked or sliced, simply flip them over.
How to Clean Your Windows Like The Pros?
Whether your windows are new or old, it's natural to want them to be pristine. Windows that are clean let in more light and give your home a more open, airy atmosphere. But figuring out the best approach to cleaning your windows while avoiding streaks and scratching can be a challenge.
Keep reading and consider the following pointers on how to clean windows like an expert without having to spend all your cash on a window cleaning service.
Step-by-Step Guide to Cleaning Windows
Follow this step-by-step guide to clean your windows and be amazed by the results!
1. Dust the Windows
To begin, use a vacuum, duster, or cloth to remove dust from the window frame, tracks, and sill.
2. Clean the Screens
You can clean your screens by removing them and vacuuming or brushing them.
3. Apply Glass Cleaner
To thoroughly clean your windows, use a lot of glass cleaner.
4. Wipe with Paper Towels or Cloth
Wipe your windows from top to bottom with a lint-free paper towel or microfiber cloth.
5. Repeat Process on the Outside Windows
To clean the exterior of the window, simply repeat steps 3 and 4 on a clean surface. Getting rid of all the dirt and grime from the outside may require a bit more effort (or simply a few more rounds of spraying and wiping).
6. Pop the Screen Back In
Replacing your screen and hanging your curtains is as simple as stepping back and admiring the gleam.
Mistakes to Avoid When Cleaning Windows
Not all people cleaning their windows. Most absolutely hate this task. Window cleaning is not a pleasant experience for most people because they waste their time making common blunders. When it comes to cleaning the windows, it's important to know the basics first. The other half of all these "how to clean windows" guides is overestimation or underestimation of the advice.
Here is a list of the most common mistakes people make when it comes to cleaning their windows.
1. Cleaning the Windows on A Sunny Day
The cleaner will dry on the hot windows before you have a chance to wipe them off, resulting in streaks that are difficult to remove.
2. Spraying Cleaning on Top of Dirt and Dust
A brush or portable vacuum can be used to clean dirt from the window frame before you begin cleaning. The cleaner will not turn into a soggy mess if dirt is added to it in this manner. Get out the soft brush and some hot, sudsy water to thoroughly clean your window screen before reinserting it again.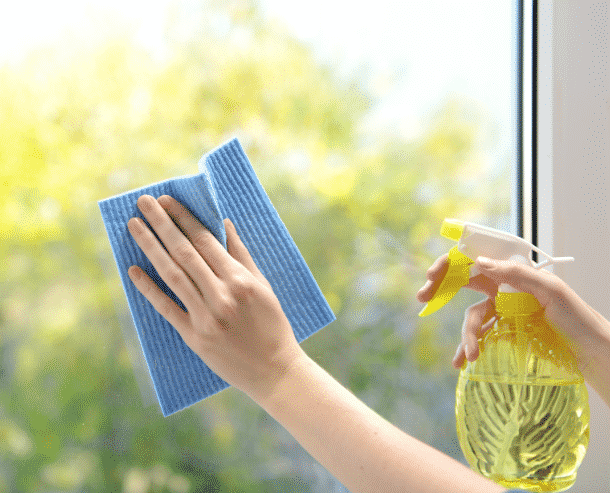 3. Skimping on Window Cleaner
Spray liberally, especially if your windows are particularly soiled. A lot of cleaner is needed to dissolve and suspend dirt so that it may be completely removed from the surfaces.
why choose us?
We are licensed, bonded & insured, and we offer a 100% satisfaction guarantee!
4. Using Old Cotton Rags to Dry Your Windows
While some people prefer to use newspapers to dry their windows, reusable microfiber cloths work just as well. Glass is left sparkling and streak-free because of the cloths' super-absorbent, washing properties.
5. Wiping With a Squeegee
As a practical matter, squeegees can be used to apply and remove cleaning materials, as well. Because they don't get dirty, they are far superior to cloths or sponges when it comes to getting rid of all the accumulated dirt and grime. In addition to being effective, squeegees are sanitary and easy to clean.
6. Cleaning All Your Windows in One Day
If you're going to clean your windows, make sure to do it room by room rather than all at once. Start by wiping one side of the window horizontally and the other vertically when you're cleaning it. You can tell if streaks have formed on the exterior or the interior by doing this.
Advanced Window Cleaning Tricks!
Avoid Direct Sunlight
Drying and evaporation of cleaners in direct sunlight can create streaks that are difficult to remove. Streaks are easier to spot when the sky is overcast, as less sunlight reflects off the window.
Clean the Frame First
Cleaning the window tracks and frames can leave an ugly sludge that drips across the glass as it collects dirt and grime.
Make Your Own Soap
It is possible to clean even the dirtiest kitchen windows using a solution of water and dish soap, which is strong enough to cut through filth but gentle enough to not leave a film behind.
Avoid Using Paper Towels
It's common to mistakenly use paper towels and newspapers to clean and dry glass surfaces; however, this just results in lint being left behind. Instead of using a regular cloth, try a microfiber one.
Get a Squeegee!
If you want a streak-free gloss, you must remove all the water and soap from the window before polishing. Squeegee the glass from top to bottom with a rubber-bladed squeegee tool to remove any remaining water.
Get an Extended Mop
Use a sponge mop attached to a pole to clean high exterior windows with soapy water. Remove the water and prevent wet spots from drying by using a dry mop or squeegee attached to an adjustable pole. Rinse the windows with a hose.
Apply Rain Repellent to Your Windows
If you live in a place where it's constantly raining, you might want to give a rain-repellent window treatment a shot.
Clean the Blinds First
Dust, grime, pollen, and pet hair love to settle on your window coverings, whether they're drapes, blinds, or shades. Wrap two microfibre cloths over each side of a pair of tongs from the kitchen and secure them with rubber bands for blinds.
Use a Lint Roller On Your Window Screens
Window screens can be cleaned using a sticky lint roller on a regular basis for general upkeep.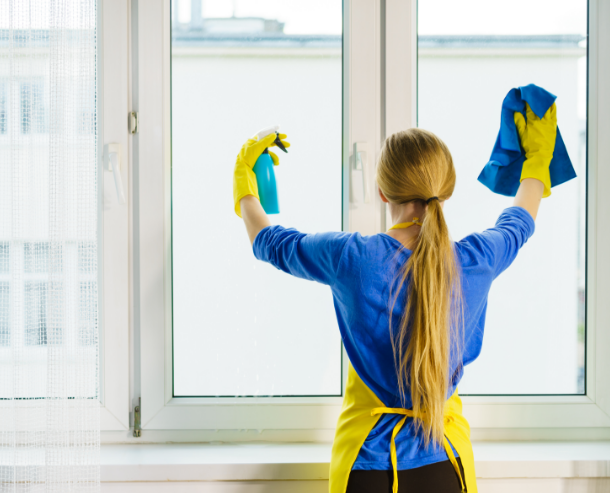 DIY Cleaning Supplies
Baking soda and vinegar are excellent all-purpose cleaners that you probably already have in your cupboard, and they cost next to nothing. The next time you have a large mess to clean up but are out of your favorite cleaning product, consider making one of these DIY homemade cleaner recipes instead of running to the shop. Cleanse your home without harming the environment with these eco-friendly homemade products.
DIY Window Cleaner Recipe
Ingredients:
2 Cups of Water
¼ Cup White Vinegar
½ Teaspoon Dish Detergent
Combine water, vinegar, and the dish soap in a bucket to make your solution, then wipe it down with a cloth or newspaper after using the spray.
DIY Mold Cleaning Solution
Mold can grow on the window sills from time to time. Most people don't have the time to do it on a regular basis, but getting rid of mold, especially if there are children nearby, is a top priority.
Ingredients:
White Vinegar
Tea Tree Oil
After around 30 minutes, simply wipe it off with a damp cloth.
Make Your Own Water Stain Remover
You might need to wait a few days to get your shower or exterior windows back to its gleaming best. And here's where a water stain remover makes its entrance. If you're having trouble getting water stains out of glass, use this stain remover to help.
Ingredients:
White vinegar
Dawn Dish Soap
Lemon Juice
Spray Bottle
After halfway filling an empty spray bottle with vinegar, add ¼ cup of lemon juice.
Fill to the top with liquid dish soap, leaving a 2′′ space at the top for mixing, then shake to combine the ingredients.
We hope this basic guide has helped you approach the process of window cleaning in a better manner and that next time, you won't find it as hard as you think. Are you struggling to find time to clean? At Four Seasons Cleaning we send cleaners who are background checked, fully trained, and certified. Four Seasons Cleaning has created a cleaning service with trust and integrity. Call us now to give your home the cleaning it deserves!
Get Started Today
If you're interested in a cleaning, make an appointment for a free in-home  estimate or book it online today!