Granite countertops are a popular choice for many homeowners, but they require special care to maintain their luster and shine. In this blog post, we'll discuss the dos and don'ts of cleaning granite countertops, so you can keep your counters looking beautiful for years to come.
Don't: Use harsh chemicals
When it comes to what not to clean your granite countertops with, harsh chemicals are a definite no-no.
You might not even realize how harsh some things might be. All-purpose commercial cleaners, for one, might contain chemicals that can etch or dull the surface of your stone. As you search for the best granite cleaning products for your countertops, avoid the following:
– Pantry items like vinegar, lemon, lime, and other acidic fruits that can etch your granite
– Ammonia and ammonia-based cleaners (ex: Windex)
– Disinfecting wipes that can contain citric acid
– Commercial products that are lemon-scented
– Hydrogen peroxide: use sparingly for spot treatment only, not for regular cleaning
– Bleach or bleach-based cleaners
Do: Use warm water and a mild dish soap
There is no better option for cleaning your granite countertops than using warm water and mild dish soap. Just add one or two drops of mild dish soap to warm water then use a clean microfiber cloth to wipe your countertop in an "S" motion. Then, dry your countertops with a soft cloth. This will protect them from water damage and eliminate streaks, leaving the surface shiny and clean.
Don't: Use abrasive scrubbers
It's important to keep in mind that what you use to clean your granite countertop is just as important as the cleaning product itself. Granite is a very durable material, however, it can be scratched and damaged if it's not cared for properly. So, it's best to avoid any abrasive scrubbers or brushes, as these can cause scratches and etchings. Instead, opt for using a soft sponge or microfiber cloth.
Do: Blot up spills immediately
Another important thing to remember when it comes to granite countertop care is to always blot up spills as soon as possible. This is essential to prevent damage or staining.
Do: Disinfect the surface with an alcohol mixture
You can also use rubbing alcohol to disinfect your granite countertop. Ensure that the alcohol is 70-90% isopropyl for maximum germ-killing power. Simply spray the rubbing alcohol, undiluted, directly onto the countertop. Leave it for around five minutes. Then, wipe the area with a clean, dry microfiber cloth, and rinse with water. Dry the entire countertop with a dry tea towel.
Do: Use baking soda or granite stain remover on spots
Removing stains from granite countertops can be tricky. You can either choose to use a DIY baking soda mixture or use a commercially available granite stain treatment, like Hope's Perfect. Either way, after you clean the surface with dish soap and warm water, follow up with your preferred stain treatment.
If you choose to make a baking soda mixture, remember that water and oil stains must be handled differently.
– For water-based stains, mix the baking soda with a small amount of hydrogen peroxide to form a paste.
– For oil-based stains, mix the baking soda with water to form a paste.
Generously apply the paste mixture over the stain. Then, cover the area with plastic wrap and tape down the edges. Leave the paste on the area overnight or even for a day or two. When the paste is dry, use a plastic scraper to gently remove the paste from your countertops. Wipe the area with a damp microfiber cloth then dry it with a tea towel.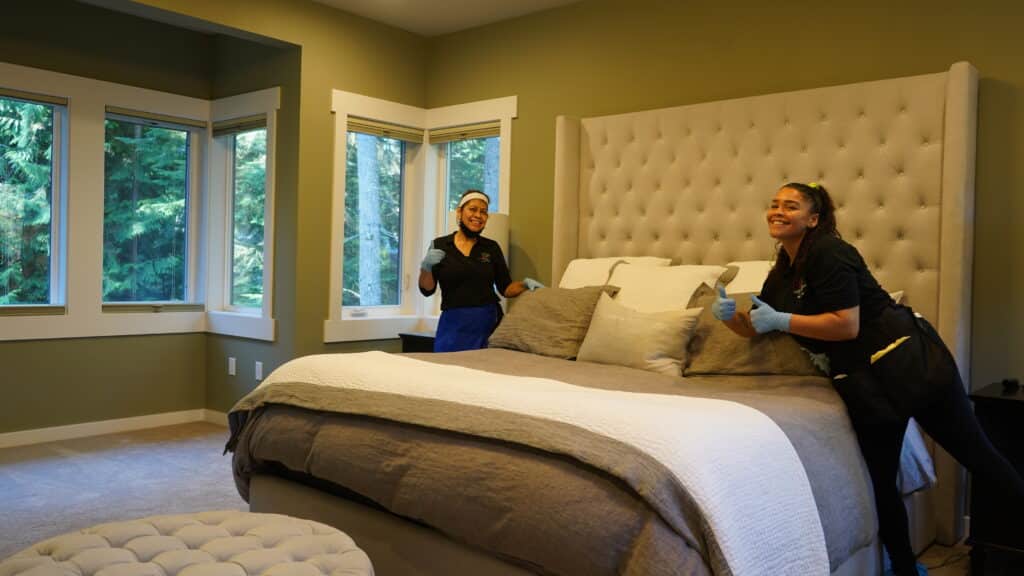 Contact Us!
Are you looking for the best high-end house cleaning services to take care of your granite countertops? Look no further than Four Seasons! Our luxury home cleaning services will give your countertops a professional, deep clean that can't be achieved through DIY methods.
Four Seasons provides daily, bi-weekly, and monthly luxury home cleaning services in Seattle and surrounding areas including Redmond, WA, Kirkland, WA, Mercer Island, WA, Woodinville, WA, Bellevue, WA, and more! Experience the best high-end house cleaning service around. Call us today to schedule your first cleaning or book online!